Archive for
July 2000
Featuring a special series called
SdJotD on the Road 2000
Search the Site du Jour of the Day Archives
2001 January | February | March | April
2000 January | February | March | April | May | June | July
August | September | October | November | December
1999 January | February | March | April | May | June | July
August | September | October | November | December
1998 January | February | March | April | May | June | July
August | September | October | November | December

1997 February | March | April/May | June | July | August
September | October | November | December
Sign up to receive Site du Jour of the Day episodes by e-mail!
---
SdJotD on the Road 2000
SdJotD on the Road 2000 looks at the people, places and things experienced during a trip my wife Jenni and I made to Michigan in late June and the first half of July. These episodes are in no particular chronological order, but in the spirit of the episodes following our wedding trip T.C.B. - SdJotD on the Road (https://members.tripod.com/~SdJotD/1999/9903.htm ) here we go…
(000717) Munising 4th of July Celebration
http://www.munising4th.com
Xtreme Productions
Munising 4th of July Committee
Munising, Michigan, USA
_________________________________
Pictured Rocks National Lakeshore
http://www.nps.gov/piro/
The National Park Service
Munising, Michigan, USA
Being a tourist is always fun while on vacation, and even though the main reason for our trip was not one, but two weddings, the tourism part stands out. After spending a five days in the Detroit area (more on that later), we headed north to Michigan's Upper Peninsula. Leaving on Monday morning and beating the often horrible weekend traffic both directions worked to our advantage. A quick stop in Gaylord, Michigan added six more people and another vehicle to our party and we crossed the Mackinaw Bridge to the U.P. By late afternoon we were in Grand Marais, Michigan (http://www.natureinabundance.com/), and were heading southwest along the shore of Lake Superior following a dirt road which runs through the Pictured Rocks National Lakeshore.
A result of the last glaciers in the region, the high cliffs and sand dunes along the lake were carved out and continue to erode leaving a spectacular view from both sides of the shore. Heavy lumbering and the subsequent sale of the land to immigrant families right around the turn of the century played an important role in these lands being preserved. Deforestation and poor farming conditions left the land to grow back wild, unpaid taxes and abandonment saw many of the parcels revert in ownership back to the State of Michigan. For more information see the Michigan Department of State's Lumbering Gallery, Michigan Historical Museum (http://www.sos.state.mi.us/history/museum/explore/museums/hismus/prehist/lumber/logging.html) and Lumbering in Michigan by Maria Quinlan (http://www.sos.state.mi.us/history/museum/techstuf/lumber/lumbinfo.html). The Pictured Rocks National Lakeshore and the Hiawatha National Forest (http://www.fs.fed.us/r9/hiawatha/) now provide recreation destinations year-round for visitors from around the world.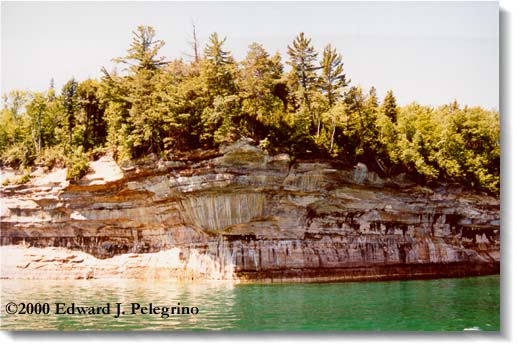 After the trip through the Pictured Rocks National Lakeshore we found ourselves in beautiful Munising, Michigan. It was late but we were excited. At Lat: 46° 25' N Lon: 86° 34' W, twilight lasted until well past 11:00pm, which for a couple from Fort Myers, Florida (Lat: 26° 38' N Lon: 81° 52' W) where it gets dark at 9:10pm this time of year, we were amused. Waking up in a small town on the 4th of July is wonderful, the young woman at the grocery store was very pleasant, commenting on a co-worker who was complaining about having to work on the holiday, "This is great, I'm making double time working today and my shift ends before most of the fun starts anyway". The celebrations started early but an obligatory trip on the Pictured Rocks Cruises' boat tour (http://www.picturedrocks.com/) was part of our plan. The guide on the public address system was annoying but informative, the weather clear, and the rock formations beautiful. Air temperatures were below 60°F and the novelty of wearing a jacket on Independence Day was interesting. Not thinking once about sunscreen, I managed to get a decent sunburn out on Lake Superior. The Pictured Rocks Cruises tour was well worth the time and fare, but the fun was to be found back in Munising that day. We didn't stay in town too long, what with other natural attractions to explore but we did stick around long enough to take in some of the fun. The residents and visitors all seemed to be having a good time. This year's events were captured on film and are available for viewing along with those from previous years at the Munising 4th of July Celebration site. I'll post some of the pictures we made that day on the Site du Jour of the Day Archive site as soon as possible. For more information about Munising be sure to see the Hiawatha Publishing Company's pages at (http://www.munising.com/). (Back to top of page)
---
(000718) Fireflies: Science Lesson In A Jar
http://www.purdue.edu/UNS/html4ever/980626.Turpin.fireflies.html
Purdue News Service
Purdue University
West Lafayette, Indiana, USA
Our first night in the Detroit area started with a flight into an unusually pleasant Metro Airport (http://www.waynecounty.com/airport/). Our last few visits to Metro Airport have been less than enjoyable, with rent-a-cop security allowing people to dash through metal detector check-points and then having to evacuate an entire terminal because someone wasn't doing their job (not an isolated incident that week either). Construction and nearly ancient facilities, not to mention roads with holes large enough to swallow cars always makes a trip to the airport interesting. To their credit, they are improving the airport and flights in and out are usually on time so long as it's not snowing. A quick trip from the terminal to the Hertz car rental building was followed by the pick-up of a car we reserved using the Hertz Corporation site (http://www.hertz.com/). The car served us well and the rate was good too.
Once we made it to my Mom and Dad's house and had dinner it was nice to sit on the back porch and take it all in. The yard had grown smaller since our last visit, much like the sled hill over at the church. Without asking me this spring, the power company went and cut down a Maple tree I'd planted when I was a kid, so that torqued me off a bit. The thing that took the edge off of my Maple tree being slaughtered, and the biggest surprise of the whole vacation came as soon as the sun went down. There, in the backyard of the house I'd grown up in were lightning bugs! That I'd never seen them before in that part of Michigan had me wondering aloud what environmental conditions might have changed in the neighborhood to allow an increased range for the fireflies. Mom was glad to tell us that the fireflies were making a comeback, especially after she and her childhood friends drove them to the brink of extinction by catching them and pinching their lights off years ago. Jenni was amazed by the fireflies and at first wasn't too keen on my suggestion of rounding a dozen of them up in a jar so she could have a closer look. When it came time to turn them loose it was a different story. We had to keep Mom away from the jar of course, but for the ten minutes or so that we had them captive it was a brilliant show.
Fireflies: Science Lesson In A Jar is a piece written by Steve Tally at Purdue University that looks at the wonders of fireflies. Sources of information include Tom Turpin and Arwin Provonsha, curator of the Purdue Entomological Research Collection. Arwin Provonsha says in the article that, "Much of what we know about the firefly flash chemistry was discovered by Bob Hillingsworth and his associates here [at Purdue] in the 1980s". Ideal for all ages, this article from the Purdue News Service (http://www.purdue.edu/UNS/) is almost as much fun as having a jar full of fireflies all your own. It's a good thing they didn't know about what my mom did as a kid though. (Back to top of page)
---
(000719) Weekly Retail Premium Gasoline Prices (Including Taxes)
(Premium leaded for Belgium, France, Italy, and U.K.; premium unleaded for Germany, Netherlands, and U.S.)
http://www.eia.doe.gov/emeu/international/gas1.html
Energy Information Administration
National Energy Information Center
Washington, District of Columbia, USA
_________________________________
The Application of the Competition Act to the Current Fluctuations in Gasoline Prices
http://strategis.ic.gc.ca/SSG/ct01549e.html
Competition Bureau
Industry Canada
Ottawa, Ontario, Canada
We'd been hearing about the higher than normal retail prices for gasoline in the Midwest for weeks before arriving in Detroit and the reality hit hard while we were leaving the airport. Posted gasoline prices (albeit airport prices) in excess of $2.30 a gallon left us wondering if the car we just rented might be a little too big. As we put a little distance between ourselves and the airport, prices slowly decreased. After a few days went by and we were in different parts of Michigan the prices continued to fall lower but were still in the $1.80 to $1.90 a gallon range, a far cry from the $1.50 a gallon prices in Florida the week before. Gasoline prices in the United States of America are still relatively inexpensive compared to international prices and the Weekly Retail Premium Gasoline Prices (Including Taxes) page at the Energy Information Administration site (http://www.eia.doe.gov/) helps to put that in a better perspective. Still, the shock of seeing gasoline priced at over $2.00 a gallon was uncomfortable. With all of the new Sport Utility Vehicles on the road averaging a mere 15 miles to the gallon it's no wonder why people are a little upset about this summer increase in gasoline prices. The Gasoline and Diesel Fuel Update (http://www.eia.doe.gov/oil_gas/petroleum/special/gasoline_update/market_summary.html) at the Energy Information Administration site is worth a look as well.
The Application of the Competition Act to the Current Fluctuations in Gasoline Prices is from October 1994 and addressed a problem experienced in Canada. Part of the Industry Canada site (http://strategis.ic.gc.ca/), this information helps to illustrate that rising gasoline prices are nothing new. In all fairness, industry propaganda from The American Petroleum Institute Home Page (http://www.api.org/) should also be mentioned. Happy motoring! (Back to top of page)
---
(000720) Detroit Metro Radio Stations
http://radiodetroit.com/radiostations.html
Detroit Radio Advertising Group
Troy, Michigan, USA
One of the really cool things about being back in Detroit is radio. The programming, regardless of the format, has never been the best in the world. Not by any stretch of the imagination but the diversity is incredible — every format imaginable pack the AM and FM dials. Tuning in to Detroit radio also brings a certain comfort, air personalities for the most part stay in the Detroit market for years on end. As the fifth largest market in the US, Detroit radio talent can simply move to another station, and in many cases take their listeners with them. A large enough market to keep call letters and formats constantly changing, the voices turn up somewhere else and that is good. Jenni and I both grew up in the Detroit area, meeting here in Fort Myers, Florida. Having both grown up listening to the radio in Detroit is a common pleasure, going home and trying to figure out where and when we last heard a particular announcer adds to the fun. The DJs in Detroit have always been local celebrities but not stars. I can remember seeing them in line with other concert goers outside of places like the world famous Cobo Arena (http://olympia.sv3.com/olympiaent/cobohome.htm), just as cold as the rest of us.
Detroit Metro Radio Stations is a page with contact information for the various stations in the market. Included under many of the individual logotypes for the stations are URLs for their respective sites. The Detroit Radio Advertising Group (http://radiodetroit.com/) is a local trade group united to promote radio in the Detroit/Windsor market. For a look at how local radio and local music influenced each other and the world in Detroit during the late 1960s and early 1970s see Steve Geer's Detroit & Southeastern Michigan Rock & Roll Heritage: 1966-1972 (http://home.att.net/~s.m.geer/). That chapter in the history of music in Detroit was so rich it helped create a reputation the market still has — whether deserved or not. (Back to top of page)
---
(000721) National Cherry Festival
http://www.cherryfestival.org/
National Cherry Festival
Traverse City, Michigan, USA
With just the right weather and soil conditions, the Grand Traverse region of Michigan produces what have been called the best cherries in the world. The 2000 National Cherry Festival ran from July 1 through 8, and this site is already set for 2001. Basically a giant Pioneer Days celebration held to bring in the cherry harvest every year, the National Cherry Festival has cherry pie eating and hole-in-one golf contests, parades and since the early days in 1925, crowns a Cherry Queen. This year's Cherry Queen is Erin Sullivan. The Tradition of the National Cherry Festival can be traced back to small gatherings around 1910 when the "blessing of the blossoms" had local clergy doing their thing to encourage the trees to produce a good crop that year. By 1925, the first the first Blessing of the Blossoms Festival was held in late May. Gertrude Brown was chosen as the first Queen by having her name drawn out of a hat. By 1931 the Michigan legislature passed a resolution making the renamed Michigan Cherry Festival an even larger event, gaining national attention for both the festival and the crop. So popular are the cherries from Traverse City, that some years there are not enough to go around and from what I have been told, the organizers of the National Cherry Festival need to bring cherries in from other parts of the country. As property values continue to rise in that part of Michigan it is likely that more orchards will be sold off for residential development which may make the bad years even worse. The cherries were certainly delicious this year, and there were plenty to go around. A visit to the National Cherry Festival is something everyone should do at least once. (Back to top of page)
---
(000722) Frederik Meijer Gardens
Botanical Gardens and Sculpture Park
http://www.meijergardens.org/
Frederik Meijer Gardens
Grand Rapids, Michigan, USA
_________________________________
Leonardo da Vinci's Horse
http://www.leonardoshorse.org/
Leonardo da Vinci's Horse Inc.
Fogelsville, Pennsylvania, USA
Perhaps the best part of travel and vacations are those little side trips that just sort of happen. I'd almost forgotten about Leonardo da Vinci's Horse until finding a tourist brochure in a rack at a hotel we stayed in during the first part of our stay. After a little convincing on my part, we agreed that if there was time we would visit Grand Rapids on the way back to Detroit from Up North. That Grand Rapids is on the other side of the state from Detroit didn't really matter, this after all was Leonardo da Vinci's Horse we were going to see. A major work of art with origins that go back over 500 years, Leonardo da Vinci never saw the completion of this major project. For more on Leonardo da Vinci see Why is the Mona Lisa Smiling? (http://library.advanced.org/13681) (SdJotD 980914).
The Frederik Meijer Gardens made for a nice Sunday afternoon, the botanical elements were particularly impressive but the centerpiece is definitely the casting of Leonardo da Vinci's Horse. Both sites featured in this episode look at the history and beauty of Leonardo da Vinci's Horse. If you are in the Great Lakes Region or Milan for that matter, make a point of seeing Leonardo da Vinci's Horse. Even today in an age of skyscrapers and other big stuff, Leonardo da Vinci's Horse is amazing. One can only imagine how it would have been perceived 500 years ago. (Back to top of page)
---
(000723) CJBaseball.com
http://www.cjbaseball.com/
C.J. Nitkowski
CJ Baseball, Inc.
Detroit, Michigan, USA
_________________________________
Blue Ear
Global Writing Worth Reading
http://www.blueear.com/
American World Services Corp.
Washington, District of Columbia, USA
Back in November, Site du Jour of the Day looked at Losing Common Ground, It's not 'only' a baseball stadium (http://www.blueear.com/archives/issue_8/stadium.html) (SdJotD 991122) an essay at BlueEar.com: Global Writing Worth Reading written by Michael Betzold. The 1999 Baseball Season and the last game at Tiger Stadium were history. At the time when that particular episode went out I wasn't sure if taking in a game at the new stadium in Detroit, Comerica Park was something I wanted to do. Throughout the winter I thought about the new and old parks, and also started a unique arrangement with the folks at Blue Ear. Shortly after the beginning of the 2000 Baseball Season, Site du Jour of the Day episodes started to go out to readers of Blue Ear Links: Web selections worth reading (http://www.blueear.com/links.html) as well as the Site du Jour of the Day list.
As our recent trip to Michigan started to get closer, Jenni and I discussed the option of going to see a Tiger game and I reluctantly agreed to go. Our schedule and the Tiger home game schedule only allowed a one game opportunity for us to see a game, the first full day we were going to be in Detroit. Not certain of the number of people in our party, we put off buying tickets. Knowing that I'd be writing a Site du Jour of the Day episode about the whole deal I kept an open mind and was ready to have a good time anyway. As it happened, our plans fell apart the night before the game so we never went. In fact, not only did I miss seeing the new stadium, I never even went into Detroit City.
Looking at The Official Web Site of the Detroit Tigers (http://detroittigers.com/) as a possible feature for this episode got me thinking about finding fan sites for a closer look at the new park. CJBaseball.com has all that the fan sites have plus a lot more. C.J. Nitkowski has taken loads of pictures of both stadiums in Detroit, stadiums in other cities in the American League, and even offers a look at the game most people never have the pleasure of experiencing — C.J. Nitkowski is a Starting Pitcher for the Detroit Tigers. Updated more frequently when the team is on the road, CJBaseball.com is baseball from the perspective of a player and the site isn't so much about C.J. Nitkowski. It's about the game. (Back to top of page)
---
(000724) Glam Rock Baby…
A Biased History of British Glam Rock
http://www.doremi.co.uk/glam/
Doremi Designs
London, England
_________________________________
Glam Name Generator
http://qix.lm.com/cgi-bin/fun/glamname.pl
Luce McQuillin Corporation
Pittsburgh, Pennsylvania, USA
For roughly six years the Glam look was big, the music was big, the hair and makeup — big too. For all intents and purposes, the genre distilled in to Punk by 1976 but not before leaving us with some mighty fine records and a few very silly looking performers. Glam Rock Baby… takes a look back at acts like the Sweet, Slade, T. Rex, Mud, Sparks, and Gary Glitter with a year by year review of the short but influential period known as Glam. Be sure to follow the pointer to Doremi Designs (http://www.doremi.co.uk/ ) before you are done with Glam Rock Baby… Look for the Inner City Unit listing there. Steve Pond, who is responsible for Glam Rock Baby… has been involved with the band that Ira Robbins of Trouser Press (http://webx.trouserpress.com/) (SdJotD 970530) called "…a devolving London five piece whose music is so far over the edge that it almost defies comprehension, Had the Bonzo Dog Band spent the `70s attending muddy rock festivals this might have been the outcome". The band is no longer together in original form, but the entire catalog is available as free MP3s!
If you haven't had enough Glam, visit the Glam Name Generator. Suggested by Ginchy Bangplanet at 107.9 Life FM - Spirit Of The City (http://www.life.on.net) (SdJotD 000612) in Adelaide, this gem does little more than come up with a stage name for you. I'm now Irridescent Dandymullet which is one of the best fake names I've ever been given. There's a pointer to another name generator at the Glam Name Generator and without giving the entire thing away, it's based on a character who shows up in Dav Pilkey's Captain Underpants books (Publisher's age: 7 to 10 years) (http://www.etoys.com/book/g/category/04/12/27/). What a strange episode of Site du Jour of the Day this has been. (Back to top of page)
---
_
---
| | |
| --- | --- |
| Sign up to receive Site du Jour of the Day episodes by e-mail! | |
Fill out this short form which gives you the option to provide information about your interests
- or -
Fill out this even shorter form:
- or -
Send your request as an e-mail message to sdjotd@email.com
---
Copyright 2000, Edward J. Pelegrino. All rights reserved.
Harpo, Trade and Service Marks used herein are the property of their respective owners.
https://members.tripod.com/~SdJotD/2000/0007.htm
Updated July 24, 2000
This Archive has been opened
times since July 22, 2000.