Welcome to the Site du Jour of the Day Archive for September 1998, companion site for the original e-mail version of Site du Jour of the Day. Episodes are sent out seven times a week to people around the world.

Archive for
September 1998

Featuring the special theme week If it's too loud, turn it down
1998 January | February | March | April | May | June | July
August | September | October | November | December

1997 February | March | April/May | June | July | August
September | October | November | December
---
Sign up to receive Site du Jour of the Day episodes by e-mail!
Fill out this short form which gives you the option to provide information about your interests
- or -
Fill out this even shorter form:
- or -
Send your request as an e-mail message to ejp@peganet.com
---
(980901) The FanPages Index
http://www.widexs.net/~fpi/
pessiMUS and Matthijs Sypkens Smit
Hosted by Wide Access
Haarlem, Netherlands
Fan Pages are terrific sources of unofficial information from fan clubs and individuals interested in the careers of celebrities. More often than not, they have tour and release dates posted months before record labels or movie studios start promoting them. These sites are also highly biased and enthusiastic about their subjects, displaying photographs, biographies and opinion in ways a publicist only dreams about. It is not uncommon for an act to endorse a Fan site with exclusive interviews, sound files and offers. Traditional search engines are a fair method to use for finding such sites, but they also turn up news and commercial music sites as well, not exactly the best way to locate a great site. The FanPages Index is a specialized database containing pointers to over eleven hundred sites pertaining to nearly a thousand different things and people you could be a fanatic about. Still early in its developmental stages, The FanPages Index welcomes submissions and has the potential to become a fantastic resource. Browsing through the alphabetical listings is a unique experience, you are bound to find a few new favorites by the time a visit is through. (Back to top of page)
---
(980902) Cubaweb.cu
El Sitio de Cuba en Internet, Noticias, Hoteles, Autos, Libros, Inversion y Mas
http://www.cubaweb.cu/
Teledatos Get and Internet Cubaweb Communications Corporation
Havana, Cuba
Here is a thought for you to ponder — as this is written, I am physically closer to Fidel Castro than I am to Mickey Mouse, yet a thousand times more likely to be dragged kicking and screaming onto It's A Small World this coming weekend than I am to be in Havana. The difference in distance is probably only a few miles as Southwest Florida is roughly half way to Cuba from Orlando if a straight line were drawn. The same signal from an FM broadcast tower I see almost daily comes in loud and clear on the beaches of northern Cuba but like most Americans, the likelihood of my relaxing on one of those beaches while on vacation is slim. A short drive to Miami can provide ample beach time and Cuban Culture if so desired, but it is not of a modern day Cuba. The sights and sounds have been slightly Americanized after leaving the island nearly two generations ago. A US trade embargo established over thirty-five years ago prohibits travel and commerce with the Communist nation. In fact, most Americans born since the embargo began know more about Cuba from I Love Lucy than any other source. Cubaweb.cu is probably more useful for people living in countries other than the US simply because tourism is a focus of the site. Sections devoted to News and Magazines, Art and Culture, Fairs and Events, Business and Trade, Science and Technology and of course Travel and Tourism all paint a pleasant picture for potential visitors. Hopefully free travel to Cuba for Americans will eventually become a reality, but somehow I'm sure it will be a little more difficult getting a slingshot through the airport at Havana than it is getting one into It's A Small World. (Back to top of page)
---
(980903) Moved Links
http://www.movedlinks.com/
Netmor Ltd.
Bnei Braq, Israel
There are much larger and far more comprehensive tools for finding a relocated URL or e-mail address than Moved Links, but this site specializes in helping find that new information. With only about 100,000 individual records, the database at Moved Links is small enough right now to allow a quick listing and fast search times. Bear in mind that at the large sites the time between a submission and the actual appearance can be weeks. Moving a site or changing an e-mail address can be a challenge you and others attempting to find you, so covering as many bases as possible never hurts. Many Internet Service Providers (ISPs) will keep a simple redirect page up for about six months as a courtesy once a site has moved, but e-mail messages usually bounce right back to the sender with little or no explanation. Moved Links could prove to be a better long term solution and if you have recently changed an address or are planning a move, a visit to this site should be on your list of things to do. (Back to top of page)
---
(980904) The Banana Museum
http://www.geocities.com/NapaValley/1799/
Ann Lovell
Auburn, Washington, USA
_________________________________
CBEA On-Line
Web Site of the Caribbean Banana Exporters Association
http://www.cbea.org/
The Caribbean Banana Exporters Association
London, England
_________________________________
Bananas in Pyjamas
http://www.abc.net.au/children/bananas/default.htm
Australian Broadcasting Corporation
Sydney, New South Wales, Australia
The Banana Museum is a collection of photographs and pointers with one common theme — bananas. It may have been here parents who inspired the beginning of the museum, calling her Anna Banana or maybe even a drunken afternoon in Hawaii at a establishment known as Anna's Bananas. That day in 1980 marked the acquisition of the first item and now there are a bunch more, over 3,500 pieces at last count.
The next site may appeal to those interested in the politics and propaganda of the Caribbean Banana Exporters Association (CBEA), a group of growers in Jamaica, Dominica, St. Lucia, St. Vincent and the Grenadines (http://stvincentandgrenadines.com/) (SdJotD 980420), Grenada, Belize and Surinam. The CBEA currently supplies bananas exclusively to European Union (EU) countries but that relationship is strained. Competition from growers in Ecuador, Guatemala, Honduras and Mexico along with a challenge by the US Government, the World Trade Organization (WTO) and growers in Ecuador, Guatemala, Honduras and Mexico. 200,000 Jobs are at stake and the London based lobbyists the group uses are doing what they can to promote The Caribbean Banana Exporters Association, this site is just one of those things.
I couldn't help but slip in the official Bananas in Pyjamas site. The characters on Cuddles Avenue, and the talented people who put the show together make that giant purple dinosaur look like a highly deadly black tarantula. Activities that include coloring and games will entertain preschoolers and certain adults for hours on end no matter how surreal seven foot tall walking talking bananas might really be. The theme song is fun to sing too. (Back to top of page)
---
(980905) The Weather Underground
http://www.wunderground.com/
The Weather Underground, Inc.
Ann Arbor, Michigan, USA
In the process of enhancing the Site du Jour of the Day Archive site recently I found a set of nifty banners and buttons called Wunder Graphics. Available from The Weather Underground in several different flavors, a Wunder Graphic will report weather observations from a single given place and can be added to any page on your site. Including the origin of a site is good practice and providing local conditions helps visitors out by answering a question we all ponder, "wonder what the weather is like there."
The Weather Underground is more than simply a source for Wunder Graphics. These banners point back to highly specific reports for the location coded into them, allowing visitors to see more about a specific place or search for another. Global data is available by city, state, country and also searchable by ZIP Code in the US. For example, 22222 shows observations from Dulles Airport at Arlington, Virginia (http://www.wunderground.com/cgi-bin/findweather/getForecast?query=22222), and information for Hobart, Tasmania (http://www.wunderground.com/global/stations/94975.html) in Australia was found by selecting a spot on an image map of the continent.
Since 1990 The Weather Underground Inc. has become a leading source of forecasts and other real-time data distribution. Features at the site allow for quick transfer times and easy navigation. You do not need a site of your own to enjoy the content at The Weather Underground but even a simple page for family pictures would be improved upon by adding a Wunder Graphic. Commercial sites can have custom packages created as well. See a Wunder Graphic in action below for Fort Myers, Florida, home of Site du Jour of the Day. (Back to top of page)
---
(980906) The Coffee Expert's
http://www.islandnet.com/coffee/
Coffee Expert's Group
Victoria, British Columbia, Canada
The culture of coffee addiction goes beyond a quick jump start in the morning and has supported countless commercial ventures providing delivery of the caffeine soaked brew. The Pacific Northwest/Western Canada is a hotbed of activity for these businesses. This site reviews cafés both new and old in the region, a great service for people living in or visiting the region and helpful for people in other parts of the world wondering what the buzz is all about. Sections also include how-to information on home roasting and brewing, purchasing equipment and even a FAQ on Espresso. Take a break from the daily grind and have a look. (Back to top of page)
---
If it's too loud, turn it down
There used to be a time for most of us when having the ability to read a record chart was more meaningful than deciphering a hospital chart, when buying the latest single from an act was the highlight of the week. As disposable incomes started going to things like braces and retirement accounts, music took a back seat. Sadly, keeping up with music becomes a minor element of life. This Site du Jour of the Day theme week looks at sources helpful in making informed choices about music purchases, sites for new and old artists, labels and even publications. To modernize a youth slogan from years gone by, if it's too loud, turn it down.
(980907) Ron Smith Presents... Oldies Music
History, trivia and charts of Fifties, Sixties and Seventies music
http://www.oldiesmusic.com/
Ronald P. Smith
Worth, Illinois, USA
The Oldies format is a favorite of many radio station owners — no new releases to keep up with, a built in audience and as time goes by, a wider playlist. There is a theory about what people consider as being "good music." It has to do with the songs popular when an individual graduated from high school or realized the joys of intimate physical contact for the first time. Ron Smith's Oldies Music site is a great place to learn about what your favorite artists from the fifties, sixties and seventies are doing or have done in the past. Sections titled Oldies Calendar, Number One Songs, Oldies News and Oldies Puzzler contain a world of excellent content. Pointers to fan and official sites for the acts discussed along with recommended books and albums make this site fantastic. The second annual Labor Day 500 list is in place and worth looking at for no other reason than to discover what songs fit the Oldies description. The list has been complied and tallied from visitor input which differed greatly from last year. The Battle of the Bands section uses similar feedback to determine which act was better than another in tournament fashion. For adults looking for their youth or kids interested in ancient history this site cannot be beat. (Back to top of page)
---
(980908) CMJ Online — New Music First
http://www.cmj.com/
CMJ Online, Inc.
A division of College Media, Inc.
Great Neck, New York, USA
The CMJ New Music Report sprang to life in the first part of 1979 when publisher Bobby Haber put together the first issue from his home. Since then, the weekly publication has provided valuable industry and playlist information to media outlets around the world. The Alternative format of today was in its infancy, ignored by large corporate stations and for a time major labels. Later dubbed the New Wave, it spawned now legendary acts such as Elvis Costello, Talking Heads, U2 and REM. These artists gained wider recognition and airplay mainly due to the genuine concern and interest from small wattage stations at colleges and universities, CMJ New Music Report allowed program directors to share data by reporting listener interest and local chart positions for a record. Almost twenty years later, College Media, Inc. has grown to become an important part of the industry, recently being called "the bible of new music" by the Los Angeles Times. If you have ever owned a radio station or worked for one you'd already know this, but what you may not be aware of is that they also publish CMJ New Music Monthly.
CMJ New Music Monthly is for the music consumer and even if you live in a major market with the best radio stations, odds are you will not find a better resource than the magazine and the Compact Disc sampler included in each issue. Seventy minutes of new music from upstart bands and established artists, reviews that are among the best in the industry and a whole lot more. CMJ Online combines the best aspects of both publications and is updated daily. RealAudio Streams, the same quality reviews from the print versions and other information too timely to be included even in a weekly are included. CMJ also hosts a music industry convention called the CMJ New Music Marathon. An ongoing feature of the four day event are short sets called showcases where an unsigned act can strut their stuff, attracting label attention and interest. This concern with the state of the industry puts College Media, Inc. in a unique position to build relationships with bands that can span the length of their careers, giving the publisher exclusive tracks for the Compact Disc, as recently seen from Barenaked Ladies, Ben Folds Five and Squirrel Nut Zippers. The editors are so good at picking tracks for the Compact Disc that it is not uncommon to hear a single that will eventually become Number One long before radio ever adds it. There is no guarantee that you will appreciate everything on the sampler — one of its best features. People in the US and Canada can buy CMJ New Music Monthly from the newsstand (US$4.99/CAN$7.99) and subscriptions can be sent internationally. Visit the site and then pick up a copy of either publication, they may just prove to be the tools you need to help find new music. I don't miss an issue of CMJ New Music Monthly, it's that consistent. (Back to top of page)
---
(980909) Razor & Tie
http://www.razorandtie.com/
Razor & Tie Entertainment, L.L.C.
New York, New York, USA
_________________________________
Rhino
http://rhino.com/
Rhino Records
Los Angeles, California, USA
_________________________________
Rounder
http://www.rounder.com/
Rounder Records Group
Cambridge, Massachusetts, USA
_________________________________
Rykodisc
http://www.rykodisc.com/
Rykodisc
Salem, Massachusetts, USA
Razor & Tie, Rhino, Rounder, Rykodisc… these are all labels that begin with an R this time. Any single one of these sites could have been selected for this episode of Site du Jour of the Day, in fact it was tempting to run each on a separate day but these labels all share a remarkable quality. Beyond having excellent content about the titles in their catalogs, these four companies have the absolute best reissues available anywhere. If that were not enough, they all support a roster of talent currently touring and recording. Most record companies that specialize in churning out old product take little care in how the packages are presented. These four labels have broken all of the rules, creating a whole new standard for the industry and putting some great music back into collections around the world. When an act leaves a major label they can often negotiate the purchase of their work, buying it all back and shopping it around to a firm eager to work with them. Depending on who the artist is and in what genre they fit, one or more of these labels will probably be interested in picking them up. Some of the greatest albums ever recorded are once again available either from your local record store or by ordering from these sites. Give yourself at least half an hour to visit each site. Have your credit card ready, operators are standing by. (Back to top of page)
---
(980910) Hearnet
http://hearnet.com/
H.E.A.R. (Hearing Education and Awareness for Rockers)
San Francisco, California, USA
_________________________________
The Who in Concert!
http://www.john-bauer.com/jacks_world/the_who_in_concert/index.htm
John Bauer
Cottesloe, Western Australia, Australia
Founded by Kathy Peck and Flash Gordon, M.D. at the Haight Ashbury Free Clinic, H.E.A.R. has become a leading advocate of hearing loss prevention. Through education and awareness campaigns stressing the importance of hearing protection the non-profit organization is beginning to see the results with musicians and audiences. Kathy Peck plays bass guitar and was an original member of the all female Punk outfit known as The Contractions. Aggravated hearing loss and tinnitus (a ringing in the ear) forced her career with the band to end short and with that as motivation, her efforts have been shared by artists like Todd Rundgren, Robert Cray, Pete Townsend and a host of others. Hearnet offers boat loads of tips and information about hearing loss and how to prevent it. Although medical advice is difficult next to impossible to give from a site but the basics are simple: Avoid exposure to noises louder than normal conversation level and wear hearing protection when exposed to loud noises. Recommendations are made for the exact type of ear plugs to use, medical referrals, an artist of the month section, VIP of the month and even an opportunity to purchase H.E.A.R. branded goods. Hearing loss is something everyone should be concerned with, especially musicians and music lovers. It usually comes on gradually and by taking a few simple steps can be slowed and even avoided.
Pete Townsend is a supporter of H.E.A.R. and could be the poster boy for premature hearing loss. John Bauer has a set of pages up that describe with words and excellent pictures his experience of seeing The Loudest Band in the World from the front row during a show in Washington, D.C. in 1979. If you enjoyed John's USA vs. Australia: A Cynical Comparison of Life in Two Great Countries (http://www.nw.com.au/~jbauer/usa_vs_australia.htm) (SdJotD 980214) then these pages might also be of interest. The Who in Concert! is not an official site but has pointers galore to other sites about the band and sections about the band members. Not to put John on the spot here, but the wonderful pictures he has up at the site are for sale and if a Site du Jour of the Day reader or two were interested in purchasing a set perhaps a donation to H.E.A.R. could be made from the proceeds. (Back to top of page)
---
(980911) Jazziz Magazine
http://www.jazziz.com/
Jazziz Magazine
Gainesville, Florida, USA
The Jazziz Magazine site has been up since June of 1998 and although it is relatively new, the site has plenty of reviews and a fair amount of additional information. As one of the first magazines published in the US to include a Compact Disc sampler, each issue Jazziz explores the rich diversity of contemporary Jazz. As Swing becomes popular again the editors at Jazziz are bound to devote additional print and electronic pages to the form. Finding a better source than Jazziz for honest and knowledgeable recommendations will be difficult. The magazine and now this site continue to open up the world of Jazz for those already familiar with it and especially for individuals just getting started. (Back to top of page)
---
(980912) Billboard Online
http://www.billboard.com/
BPI Communications Inc.
New York, New York, USA
Billboard has been the record industry standard for measuring the success of single releases for forty years. Much has changed since the early days when chart data was taken from juke box operators and record companies — the payola scandal resulting from cash and prizes being exchanged for airplay and chart position, electronic reporting and probably the most interesting development, the demise of the 45rpm record. The extinction of vinyl in the record business has not completely eliminated singles though. Cassette and CD singles still manage to help sell albums (a term first used to describe sets of 78rpm records), and it is not uncommon when a single version is not released for a song to enter the Billboard Hot 100 Singles Chart based on airplay alone. The various charts Billboard publishes in the weekly magazine help shape choices made by program directors and record store buyers around the world. While this can perpetuate the shelf life of a release, the charts are bearing witness more and more to what people are actually buying. See The BEYOND RADIO Personal Chart Zine (http://beyondradio.com) (SdJotD 971209) for a completely different approach to tracking the popularity of a release.
In addition to offering current and historical charts, Billboard Online is updated two times a day with music news. Culled from industry releases and the work of the editorial staff at Billboard, theses stories show how vibrant the music business is and how quickly gossip and rumor affect the sale of product. A feature of the site I really enjoy is called The Challenge. Visitors in the US can participate in a contest for Billboard books and CD-ROMs by predicting how well ten albums will do on the charts during a four week period. In addition to The Challenge, every Billboard Album Review since 1980 can be read at the site. Billboard Album Reviews provide a heads up for the retail outlets and consumers, the editors are highly selective when committing ink to a new release and regularly pick winners right out of the box. This is an important site for anybody interested in how the music business works and is a whole lot more convenient than wrestling the print edition of Billboard away from people who subscribe. (Back to top of page)
---
(980913) V R O O M
Official Catalog of Rock and Roll
http://vroom.com/
Jacques Vroom
The Rock & Roll Group, LLC
Dallas, Texas, USA
Rock and Roll memorabilia is probably one of the most rewarding things to collect. As an art form, posters announcing shows and tours show the sensibilities of a period in time and anyone who has a favorite appreciates seeing photographs of that act. Vroom offers some real treasures in their catalog although only a portion of that catalog is available for viewing at this site. Instead, a version of the entire print catalog can be downloaded in Aodobe's Portable Document Format (PDF) — not exactly the best way to sell stuff, but if you should have the time it is a great catalog. Some of the items are a little over the top, but for die-hard fans interested in spending a couple of hundred dollars for autographed prints or canceled checks from a band's front office this is the place. The bulk of what is available in the Vroom catalog is quite affordable and of high quality. Chock full of exclusives, some of these items will become more valuable over time and almost all of them will bring joy to fans buying them which is really all that matters. The site also hosts a section where visitors can swap items and lore with others and a Shockwave game that can be played for entertainment or competition. Maybe the next version of this site will be better, even now it is worth taking a look.
(If you have enjoyed this Site du Jour of the Day theme week be sure to visit other pages in the Archives. Sites similar to these have been explored and the episodes can be found by browsing the monthly pages going back to February 1997. Also, if there are any other sites sharing this general subject that you think others would like don't hesitate to send the URLs along.). (Back to top of page)
---
---
(980914) Why is the Mona Lisa Smiling?
http://library.advanced.org/13681
The International ThinkQuest Collaborative Team
John F. Kennedy High School
Bronx, New York, USA
and
The Soltorgymnasiet
Borlange, Sweden
It is always a treat to see what high school students are learning about, especially when the subject is something one also enjoyed at that age. Why is the Mona Lisa Smiling? is the work of two schools, one in the US and another in Sweden. This site and the pointers it contains celebrate the life and vision of an often misunderstood genius. As an artist, engineer and mathematician the work of Leonardo Da Vinci continues to captivate and amaze people after five hundred years. Public interest in Leonardo Da Vinci will only increase in the year leading to the completion of his Charger, a 15 ton cast bronze horse originally commissioned in 1482 by Ludovico Sforza, duke of Milan and never realized during the sculptor's lifetime. The students have done a wonderful job with the site and have obviously learned a great deal along the way. (Back to top of page)
---
(980915) Stig Barrymore
The legendary 5th member of Flux Oersted...
http://elbombo.shmooze.net/flux/Stigbio.html
Robby Garner
Robitron Software Research, Inc.
Cedartown, Georgia, USA
In the 1980s an Artificial Intelligence program call Eliza was released that had the world talking to machines everywhere. Eliza would return comments based on user input, and to this day the program continues to amaze and captivate. Stig Barrymore is a later generation of that technology and to compare the two would be as foolish as saying that Adobe's Photoshop is similar to Hasbro's Lite-Brite, the toy that uses translucent plastic pegs and a back-lit black grid to create pictures. As a Functional Response Emulation Device (FRED), Stig collects phrases users key in, learning and adding them to its own conversation skills. The results and conversations continue to grow making Stig an ideal companion for insomniacs and even for individuals interested in increasing their typing abilities. Hours will slip away from you while visiting with Stig but unlike interacting with real humans Stig has all the time in the world and never gives you grief about spending so much time on the computer. (Back to top of page)
---
(980916) "Quoth!" - the quotations quiz.
http://dspace.dial.pipex.com/goth/quoth.shtml
Rob Marriott
Cambridge, England
Oral and written communication can be quite memorable, if not profound. Major religions of the world rely heavily on volume after volume of short bits of wisdom somebody thought enough of to record, and even more of to repeat and live by. Information overload has damaged the value of such quotations, practically drowning ourselves by keeping thousands of them in one convenient location. "Quoth!" puts the excitement back into words of great stature and structure by making a game of them. Every week ten nuggets are posted and visitors are asked to identify by a process of multiple choice who was responsible for each statement. At present there isn't enough traffic to entice advertising so the only thing the winner gets is the satisfaction of beating other contestants and the pleasure of seeing their name in big, bold letters. If remembering who said what is a skill you are proud of here's a chance to show off. Should casual interest be more your style, "Quoth!" will certainly leave you with food for thought. The lines chosen for "Quoth!" are never too diificult or easy to figure out, almost always just right. (Back to top of page)
---
(980917) Useless Information
http://home.nycap.rr.com/useless/
Steve Silverman
Watervliet, New York, USA
Steve Silverman's Useless Information pages contain over sixty "odd but true" stories. These well written and thoroughly researched tales provide brief accounts of historic and current events that you probably missed the first time around — sort of like Reader's Digest except really cool. Still a hobby, a book deal or syndicated newspaper column cannot be too far away for the author. Self publishing doesn't get much better than this. (Back to top of page)
---
(980918) Wild Feed TV
verité television
http://www.wildfeedtv.net/
Jed Rosenzweig
New York, New York, USA
The old catch phrase "film at eleven" used to mean something really important during the early days of television news broadcasting. A film crew would be rushed to the scene of a breaking story and shoot a few reels of motion picture stock. They would hurry back to the studio to develop and print the film, hopefully providing exclusive pictures before rival stations could. All day or night audiences were teased with the exclusive. Eventually telephone lines were used to link cameras in remote locations, a technique network radio had been successfully utilizing for years. Foul weather could disrupt or completely interrupt a live feed, sending the technical difficulties slide up and leaving the director pulling out what little hair s/he had left until the link could be reestablished. Satellite transmissions improved the situation but remained very expensive. Live pictures from the 1972 Olympics marked a milestone in television history when extensive segments were received by major broadcast networks around the globe for the first time. These pictures were then sent out over telephone lines to broadcast towers, allowing residents of Muncie to see athletes in Munich as it happened. In retrospect, the images were horrible but the immediacy remains impressive. The world actually seemed to get smaller for a while. As satellite resources increased and the price dropped, more an more networks put them in place.
The Gulf War brought us what may prove to be the last exciting moment of satellite transmission — three Cable News Network (CNN) reporters in a Baghdad hotel telling the world about a firestorm underway with the aid of a newly introduced portable satellite uplink and camera system. Hiding under a table still seems like a brilliant way to avoid Iraqi soldiers and it works on TV. Today any station with a large enough budget can buy a big old fancy truck for sending live signals back to a central location and the networks have so much data flying around that most of the magic and romance is long gone. Before a report is put on the air the signal is being sent up and then back down, available for anyone with a satellite dish and receiver to see. The legal aspect of this all is a hot topic, and when Jed Rosenzweig began capturing and assembling feeds never intended for broadcast he created television out of television. His cable show WILD FEED TV attracted the attention of thousands of viewers including folks at the National Broadcasting Corporation (NBC) who objected to what they considered piracy. This site has lots of information about the legal battle and almost a dozen short Quicktime examples of talking heads forgetting that they are on live television. As the popularity of small satellite receivers continues to increase even this secret aspect of television will no longer hold our attention after the first couple of hours. For now though, there is enough at this site to make Grandma either never want to turn the set off or never look at anything on television ever again. (Back to top of page)
---
(980919) Virtual Cities
http://www.net-cities.com/
Matej Lexa
Nomenia LX
Urbana, Illinois, USA
Viewing and taking still photographs of an urban center can be an educational and rewarding hobby. A roll or two of film exposed while visiting a far away city can enhance your memory of the trip. When sharing the photographs with others the experience does not always translate, especially if they have never seen the place before. A major reason that a sense of place is not established is that photographic prints rarely provide scale. Virtual Cities is a collection of maps and images representing a number of cities around the world. Following a predetermined grid, visitors can look in all four directions and travel in one or more of these directions, having a walk about town if you will. The concept is not new but this site is just starting out and provides the opportunity for visitors to put their hometown on the map. Commercial interests might wish to look into the possibility of having a pointer to their own site made available by way of an image map crafted around a photograph with their store or outdoor advertising in view. Having visitors send in tours is a great idea for Nomenia LX, it keeps expenses down and also offers the chance to put tours of smaller population centers together. A wonderful alternative to putting up "this is where I live/work/play" images on your own site, and a chance to see places you may otherwise never get to. (Back to top of page)
---
(980920) TreeWeb: The Natural History of Trees
http://quercus.ca.uky.edu/treeweb/index.htm
Thomas W. Kimmerer
Department of Forestry, College of Agriculture
University of Kentucky, Lexington
Lexington, Kentucky, USA
Recently there has been a great deal of concern surrounding the deforestation of the planet. Reasons for this alarm being sounded are both complex and immediately evident. More so than any other life form, trees support all life on the planet. By clearing old growth forests we are taking a multitude of other species, not just trees. Heavy clearing began in Europe in the late 1400s and has continued at such a rate that huge areas which once supported a rich diversity of life are hardly suitable for growing even the hardiest of crops. The effects of deforestation show in the contrast between Haiti and the Dominican Republic. Theirs is the only man-made political boundary visible from space. The socioeconomic difference between the two counties on a single island have more to do with this clearing of the land than politics. As the author points out at TreeWeb: The Natural History of Trees, most humans take trees for granted yet we rely on them in so many ways. Primarily in place for students in forestry and natural resources courses at the University of Kentucky, the site is an important resource for others as well. To add a little more perspective to the problem, the longest-lived organism on Earth is the 4,764 year-old Ancient Bristlecone Pine (http://www.sonic.net/bristlecone/) (SdJotD 980223) and a few minutes with a chainsaw could put an end to that. On a larger scale our ignorance could lead to our own demise. Information at this site and the pointers it contains could add timbre to the voice of tree-huggers everywhere in addition to the educational benefits the rest of us will find. Without trees we wouldn't have a soapbox to stand on or clean air to breath or… (Back to top of page)
---
(980921) Ben Franklin & The Armonica
http://www.gigmasters.com/armonica/
Cecilia Brauer
Merrick, New York, USA
Cecilia Brauer plays one of the rarest instruments for which music is currently being written — the Armonica. Invented by Benjamin Franklin in 1761, the Armonica is a series of crystal bowls rotated on a spindle and played with wet fingers. After its introduction during the last part of the 18th century the Armonica experienced huge popularity but quickly fell from grace as a backlash of the fad. In addition to the Armonica, Cecilia Brauer plays piano and as an associate member of the Metropolitan Opera Orchestra, the celeste. This site provides information about the programs the musician gives at school, museums and historical sites. "Ben Franklin and the Armonica" and "Ben Franklin, the Musician" are one hour long lectures/demonstrations about history, science and music. Available through the site is a recording titled "The Angelic Sounds of Christmas" featuring the talents of Cecilia Brauer, her brother Raymond Gniewek, violinist and concertmaster of the Metropolitan Opera Orchestra, and his wife Judith Blegen Gniewek, leading soprano of the Metropolitan Opera. Two short samples from the package are presented as WAV files and are worth listening to if one has never heard the Armonica being played. Pointers to other sites include that of Armonica manufacturer G. Finkenbeiner Inc. (http://finkenbeiner.bcn.net) (SdJotD 971013) and others dealing with the life and times of Benjamin Franklin help round out this excellent site. (Back to top of page)
---
(980922) The Currency Site
http://www.oanda.com/
OANDA
Olsen & Associates
Zürich, Switzerland
The Currency Site features OANDA's 164 Currency Converter, a fantastic tool for anyone interested in world economy or what to expect for your money when traveling. Current and historical data from 1990 for cash or credit card rates in any of 164 currencies. Language options include English, French, German, Italian, Swedish and Portuguese. The usefulness of this site does not end with the 164 Currency Converter, Cheat Sheet for Travelers can be used to create a small conversion table — just the thing for speedy calculations while shopping and dining without converting all of your cash to local currency. Other tables and calculators for working with multiple currencies are also available, they include Historical Currency Table, Interactive Daily Table, FX Playground, used for building historical graphs and cross-rate tables, Financial Forecasting Services, Directional Forecasts and Timing Indicators, Today's Market Insight, and Currency Ranking which scales eight of the top world currencies according to their current strength. The Currency Site offers the most current and accurate data about money, and it is free. (Back to top of page)
---
(980923) - (980927) Site du Jour of the Day Special Announcement

Site du Jour of the Day episodes did not go out for a few days, mainly because of Hurricane Georges. Fortunately, the storm missed Fort Myers, Florida but for a couple of days we were not sure exactly what would happen. The modified image below shows Hurricane Georges on September 26, 1998 as seen in infra-red by the GEOS 8 satellite. A more recent version of this image can be found at http://goeshp.wwb.noaa.gov/CWATCH/G8CWGMIR.GIF. (Back to top of page)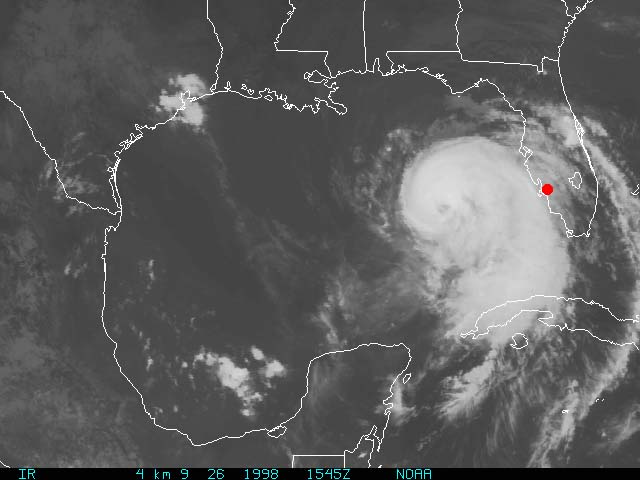 _
---
(980928) Hurricane Hunters Home Page
http://www.hurricanehunters.com/
The 53rd Weather Reconnaissance Squadron
Hurricane Hunters of the Air Force Reserve
403rd Wing, Keesler Air Force Base
Biloxi, Mississippi, USA
Living in a sub-tropical climate, the threat of tropical storms and hurricanes is part of the annual ritual of summer. Akin to putting on snow tires and storm windows in far northern/southern climates, several trips to replenish hurricane supplies becomes a rite of spring. Most years these storms pose little danger to a specific locale, but every now and then one is reminded why such preparedness is necessary. Hurricane Georges had those of us in Southwest Florida and the Florida Keys rushing to batten down the hatches. In the period of two days a storm far off in the Atlantic Ocean became a serious threat to life and property in Caribbean nations and Florida. Hardest hit were people in Cuba and the Dominican Republic, the Florida Keys, and as this is written, residents of Louisiana, Mississippi, Alabama, and Florida again — one storm system taking the lives of over two hundred people and causing millions of dollars in property damage. Forecasting methods have allowed advance warning, but images from satellites and signals from marine instruments alone only make up a portion of the data used for tracking and prediction. Human observation plays a key role in determining the strength of a hurricane or tropical storm. Flying into a storm the size of a hurricane is often the single best way to gather data for understanding the dynamics of a particular system. The men and women of The 53rd Weather Reconnaissance Squadron do just that. These Hurricane Hunters spend up to fifteen hours a mission in Lockheed-Martin WC-130 Hercules aircraft. This modified version of the C-130 transport is packed with computers and other instruments collecting data every thirty seconds. The crew of six will experience on a single mission more turbulence than most of us do in a lifetime, temperatures reaching -50ºF, and occasionally, the joy of seeing the "stadium effect." Once inside the eye of a hurricane the air becomes calm and the circular wall surrounding the center resembles a huge football stadium 50,000 feet high. Flying at 10,000 feet and crossing the exact center of the storm a dropsonde is released. This tube is filled with instruments that report various readings back as it parachutes to the ocean below. A crucial part of the mission, dropsondes are released on the three subsequent passes that follow over the center of the storm. Visit this site to read about the history of The 53rd Weather Reconnaissance Squadron, take a guided tour through the eye of Hurricane Opal and learn about the members of this special team who contribute to the safety and advance warnings which have saved millions of lives since the unit formed. As the force of Hurricane Georges is felt in and around Biloxi keep these good people in mind. Going into a hurricane for science is a lot different than having one visit you at home. (Back to top of page)
---
(980929) American Watchmakers-Clockmakers Institute
http://www.awi-net.org/
American Watchmakers-Clockmakers Institute, Inc.
Harrison, Ohio, USA
According to information presented at American Watchmakers-Clockmakers Institute, Inc. (AWI) site, the demand for professionals in the industry will see 25,000 openings by the year 2003. Mechanical timepieces may be losing popularity to electronic models, yet 70 million traditional style watches and clocks will have been sold between 1993 and 2003. It is also estimated that 21 million of these units will need repair during the same period. The average age of today's watchmaker/clockmaker is sixty years old, so trade organizations like AWI have it in their best interest to recruit as many young people into the craft as possible. By enrolling in one of more than a dozen watchmaking schools in the US and Canada, students can learn a trade that will continue to be in high demand. The AWI goes back to 1960 when the Horological Institute of America and the United Horological Association of America merged. In the nearly 40 years since that time, the trade organization has become a leader in education and training. A highlight of a visit to their world headquarters outside of Cincinnati would have to be the Orville R. Hagans History of Time Display. Items in the collection show the accuracy and intricacy of timepieces throughout the centuries. In the center of the room is a 26 foot Foucault pendulum, always a fun display to see in action. Pointers to other Horological sites will prove useful for individuals interested watches, clocks and time. If what you seek is not found at these other sites, it's probably a safe bet that the folks at the American Watchmakers-Clockmakers Institute will help you get wound up about Horology. (Back to top of page)
---
(980930) Newcastle Speedway
http://newcastle.speedway.isnowonline.com/
Wynn's Newcastle Speedway
Tomago, New South Wales, Australia
While not a big fan of Motorsports, I cannot imagine a trip to Australia being complete without a Saturday night at the Newcastle Speedway. To risk a broad generalization, it seems that certain Australians are as nutty about their automobiles as Americans, if not more so. The Newcastle Speedway site was launched just a few days ago and claims that "The speedway makes for an action packed family outing that is hard to beat. The roar, shake and rumble of the on-track action is supplemented with on-site food and beverages including liquor." Can't have racing fans suffering through a Saturday night without on-site food now can we? The divisions and types of vehicles differ from those at North American tracks and with drivers like The Phanton - Brooke Tatnell, it would appear that there is a certain professional wrestling type vibe going on as well. See The Phanton - Brooke Tatnell's photograph in the Gallery, enter the 1998/1999 Design-A-Car Competition by submitting a drawing or painting of a dream car, send a question to Ask a Driver, get race results, view track records and see a calendar of upcoming events. Newcastle Speedway has an entertaining site and former Toyota dealer/promoter David Lander is obviously keen on turning the 22 year-old, 400 meter track into something more than just fast cars and noise. Even if he did change the name from the better sounding Wynn's Newcastle Motordrome, it still looks like a lot of fun. (Back to top of page)
---
Sign up to receive Site du Jour of the Day episodes by e-mail!
Fill out this short form which gives you the option to provide information about your interests
- or -
Fill out this even shorter form:
- or -
Send your request as an e-mail message to ejp@peganet.com
---
Copyright 1998 Edward J. Pelegrino. All rights reserved.
Trade and Service Marks used herein are the property of their respective owners.
https://sdjotd.tripod.com/1998/9809.htm
Updated September 30, 1998
This Archive has been opened
times since September 8, 1998.